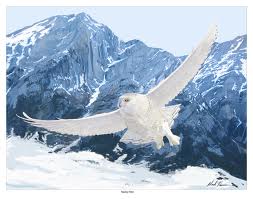 Fast Facts
Type: Bird

Diet: Carnivore

Average life span in the wild: 10 years

Size: Body, 20 to 28 in (52 to 71 cm); wingspan, 4.2 to 4.8 ft (1.3 to 1.5 m)

Weight: 3.5 to 6.5 lbs (1.6 to 3 kg)

Group name: Solitary

Did you know?

Unlike most owls, which are nocturnal, snowy owls are diurnal—they hunt and are active both day and night.
The ghostlike snowy owl has unmistakable white plumage that echoes its Arctic origins.
These large owls breed on the Arctic tundra, where females lay a clutch of 3 to 11 eggs. Clutch size depends upon the availability of food, and in particularly lean times a usually monogamous pair of owls may not breed at all. Parents are territorial and will defend their nests against all comers—even wolves.
Young owls, especially males, get whiter as they get older. Females are darker than males, with dusky spotting, and never become totally white. Some elderly males do become completely white, though many retain small flecks of dusky plumage.
The snowy owl is a patient hunter that perches and waits to identify its prey before soaring off in pursuit. Snowy owls have keen eyesight and great hearing, which can help them find prey that is invisible under thick vegetation or snowcover. The owls deftly snatch their quarry with their sharp talons.
A snowy owl's preferred meal is lemmings—many lemmings. An adult may eat more than 1,600 lemmings a year, or three to five every day. The birds supplement their diet with rabbits, rodents, birds, and fish.
These magnificent owls sometimes remain year-round in their northern breeding grounds, but they are frequent migrants to Canada, the northern United States, Europe, and Asia. Lemming availability may determine the extent of southern migration, when owls take up summer residence on open fields, marshes, and beaches.
Ad blocker interference detected!
Wikia is a free-to-use site that makes money from advertising. We have a modified experience for viewers using ad blockers

Wikia is not accessible if you've made further modifications. Remove the custom ad blocker rule(s) and the page will load as expected.