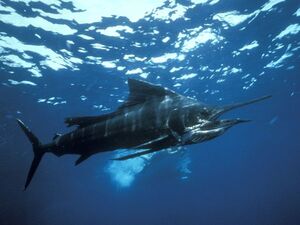 Fast Facts
Type: Fish

Diet: Carnivore

Average life span in the wild: 4 to 10 years

Size: 5.7 to 11 ft (1.7 to 3.4 m)

Weight: 120 to 220 lbs (54.4 to 100 kg)

Group name: School

Did you know?

Sailfish are the fastest fish in the ocean and have been clocked leaping out of the water at more than 68 mi (110 km) per hour.
The two main subspecies of sailfish, Atlantic and Indo-Pacific, range throughout the warm and temperate parts of the world's oceans. They are blue to gray in color with white underbellies. They get their name from their spectacular dorsal fin that stretches nearly the length of their body and is much higher than their bodies are thick.
They are members of the billfish family, and as such, have an upper jaw that juts out well beyond their lower jaw and forms a distinctive spear. They are found near the ocean surface usually far from land feeding on schools of smaller fish like sardines and anchovies, which they often shepherd with their sails, making them easy prey. They also feast on squid and octopus.
Their meat is fairly tough and not widely eaten, but they are prized as game fish. These powerful, streamlined beasts can grow to more than 10 feet (3 meters) and weigh up to 220 pounds (100 kilograms). When hooked, they will fight vigorously, leaping and diving repeatedly, and sometimes taking hours to land.
Sailfish are fairly abundant throughout their range, and their population is considered stable. They are under no special status or protections.
Ad blocker interference detected!
Wikia is a free-to-use site that makes money from advertising. We have a modified experience for viewers using ad blockers

Wikia is not accessible if you've made further modifications. Remove the custom ad blocker rule(s) and the page will load as expected.