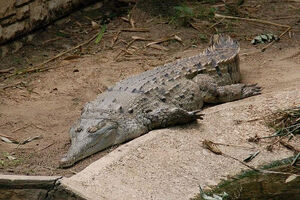 Main Characteristics: Orinoco Crocodiles have a body length between 3 and 4 m (9.8 - 13 ft). They are pale green/yellow in colour and they have short, powerful legs and a long, powerful tail.
Habitat: Orinoco Crocodiles are restricted to the Orinoco River and the Meta River drainage basins in Columbia and Venezuela in South America.
Diet: Orinoco Crocodiles mainly feed on reptiles, birds, mammals, fish and invertebrates.
Breeding: Orinoco Crocodiles breed during the dry season and 14 weeks after mating the female will dig a nest in a sand bank and lay her eggs. After approximately 3 months the young crocodiles hatch and call out to their mother. She will dig out the youngsters, carry them to the water and she will defend them until they are a year old.
Predators: Humans are the main predators of adult Orinoco Crocodiles. Youngsters are preyed upon by caimans, anacondas, tegu lizards, american black vultures and other carnivores.
| | |
| --- | --- |
| Latin Name | Crocodylus intermedius |
| Conservation Status | Critically Endangered |
| Location | South America |
| Colour | Pale Green/Yellow |
| Length | 3 - 4 m (9.8 - 13 ft) |
| Weight | - |
| Breeding | Oviparous |
Ad blocker interference detected!
Wikia is a free-to-use site that makes money from advertising. We have a modified experience for viewers using ad blockers

Wikia is not accessible if you've made further modifications. Remove the custom ad blocker rule(s) and the page will load as expected.