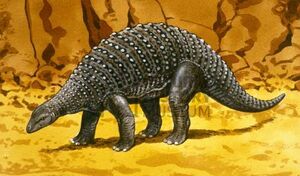 Nodosaurus ("knobbed lizard") was an herbivorous dinosaur from the Late Cretaceous, the fossils of which are established in North America. Three unfinished specimens have been exposed in Wyoming and Kansas, and no skulls. One of the first armored dinosaurs to be exposed in North America, Nodosaurus was named by O. Marsh in 1889.
This nodosaurid ankylosaur was concerning 13 to 20 feet (four to six meters) long. It was an ornithischian dinosaur with bony dermal plates casing the top of its body. It may have had spikes the length of its side as well. It had four short legs, five-toed feet, a short neck, and a long, stiff, clubless tail. The head was thin, with a pointed snout, powerful jaws, and small teeth. It almost certainly ate soft plants, as it would be unable to chew tough, fibrous ones.
Ad blocker interference detected!
Wikia is a free-to-use site that makes money from advertising. We have a modified experience for viewers using ad blockers

Wikia is not accessible if you've made further modifications. Remove the custom ad blocker rule(s) and the page will load as expected.