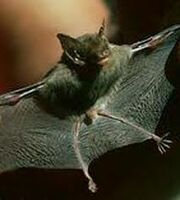 | | |
| --- | --- |
| Latin Name | Craseonycteris thonglongyai |
| Conservation Status | Endangered |
| Location | Thailand & Myanmar |
| Colour | Reddish/Brown or Grey |
| Length | 29 - 33 mm (1.1 - 1.3 inches) |
| Tail | None |
| Wingspan | Approx. 170 mm (6.7 inches) |
| Weight | 2 g (0.07 oz) |
| Life Expectancy | - Yrs |
Main Characteristics
Bumblebee Bats are the world's smallest bat, in fact they are the world's smallest mammal. They are between 29 and 33 mm (1.1 - 1.3 inches) in length, they have no tail, they have a wingspan of approximately 170 mm (6.7 inches) and they weigh 2 g (0.07 oz).
They have reddish/brown or grey upper parts with their underside being pale in colour. They have dark coloured relatively wide wings with long tips that enables them to hover.
Bumblebee Bat Range Map (Thailand & Myanmar)
Ad blocker interference detected!
Wikia is a free-to-use site that makes money from advertising. We have a modified experience for viewers using ad blockers

Wikia is not accessible if you've made further modifications. Remove the custom ad blocker rule(s) and the page will load as expected.