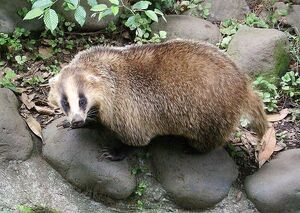 Main Characteristics Asian Badgers are similar in appearance to Eurasian Badgers.
Habitat: Asian Badgers can be found in open deciduous woodlands, coniferous woodlands, mixed woodlands, adjacent pastures, scrub, steppe and sometimes in suburban areas. They have a large range that extends from the southern portion of Russia through Kazakhstan, Mongolia, Korea and China.
Diet: Asian Badgers are omnivores and they mainly feed on earth worms, insects, frogs, birds, lizards, small mammals, nuts, fruit, eggs and carrion.
Predators: Humans are predators of Asian Badgers.
Subspecies: Subspecies of the Asian Badger include: Meles leucurus amurensis Meles leucurus arenarius Meles leucurus blanfordi Meles leucurus leucurus Meles leucurus sibiricus Meles leucurus tianschanensis.
| | |
| --- | --- |
| Latin Name | Meles leucurus |
| Conservation Status | Least Concern |
| Location | Asia |
| Colour | NA |
| Length | NA |
| Tail | NA |
| Weight | NA |
| Life Expectancy | NA |
Ad blocker interference detected!
Wikia is a free-to-use site that makes money from advertising. We have a modified experience for viewers using ad blockers

Wikia is not accessible if you've made further modifications. Remove the custom ad blocker rule(s) and the page will load as expected.